The cryptocurrency market has recovered a little after sliding further yesterday. Having dropped as low as $2.45 trillion, its total cap has now risen back up to $2.59 trillion (according to CoinMarketCap). A number of smaller altcoins are responsible for this charge, although many of the largest cryptocurrencies have also risen in the past day. In their honour, we've put together a list of the 5 best layer-1 blockchain cryptocurrency to buy right now. This means coins which run on their own blockchains. And which obviously have good potential for gains.
5 Best Layer 1 Blockchain Cryptocurrency to Buy Now
1. Crypto.com Coin (CRO)
CRO is one of a small handful of coins experiencing significant growth right now. At $0.929789, it has risen by 22% in the past 24 hours. More impressively, it's also up by 122% in the last seven days and by 382% in the past month.
CRO has a serious amount of momentum right now. Of course, the flipside of this is that, with its RSI at 70, it could be overbought and on the brink of correcting. However, with the rest of the market still largely stagnant, traders may continue piling into CRO for the short-term.
In the past, CRO wouldn't have made it onto this list, since it originally ran on the Ethereum blockchain. But on November 8, Crypto.com launched the Cronos mainnet, a layer-1 blockchain that now hosts CRO. This is why CRO has been rallying in recent weeks, with users migrating to Cronos and using more CRO as a result.
Given that Cronos is backed and operated by a large exchange such as Crypto.com, we expect CRO to continue rallying in the longer term. Even if its current surge may ease off a little in the short-term. This is why it's one of our 5 best layer 1 blockchain cryptocurrency to buy right now.
2. Bitcoin (BTC)
No list of the best layer-1 cryptocurrencies would be complete without BTC. Its current price of $56,891 represents a 1.7% rise in the last 24 hours. However, it's also down by 5.7% in the past week and by 15% in the past fortnight.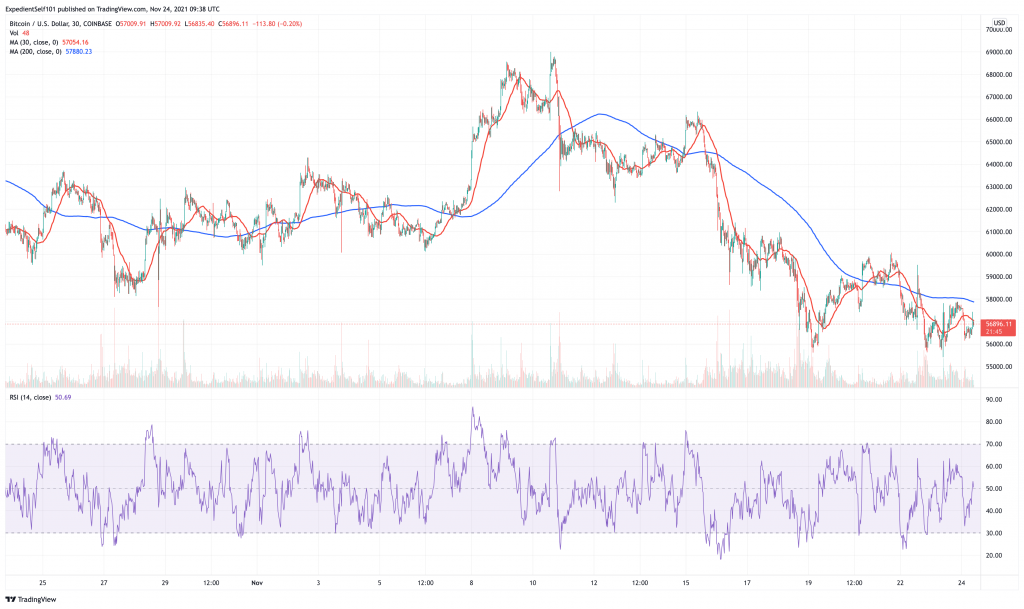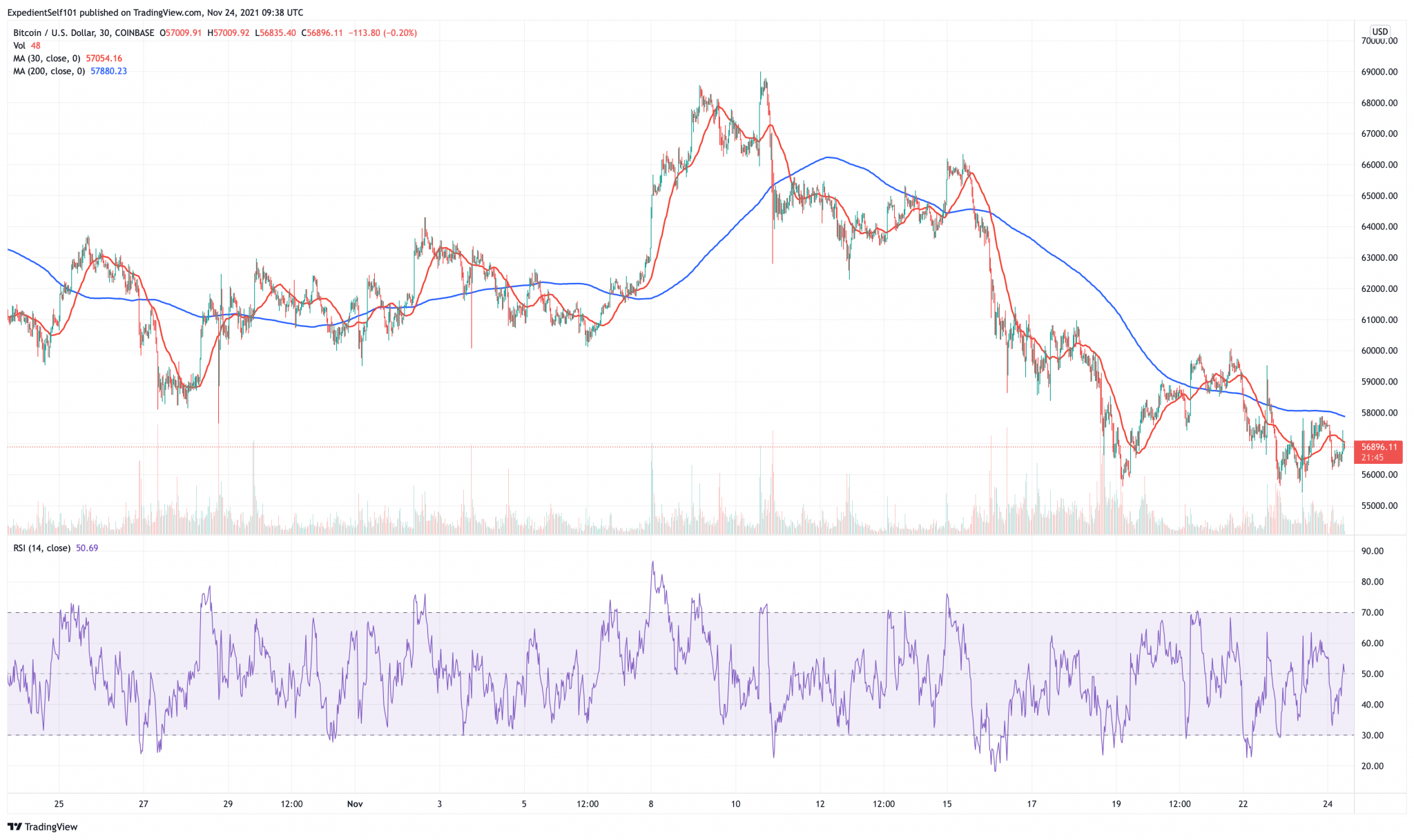 BTC continues to struggle after reaching an all-time high of $69,044 November 10. That said, its technical indicators hint that it may be a good time to buy. Its relative strength index (in purple above) is currently at 50, having risen from nearly 30. This suggests rising momentum.
More generally, BTC is the biggest cryptocurrency in terms of market cap for a reason. The layer-1 Bitcoin blockchain is one of the most stable and hardest to hack, while bitcoin itself benefits from a supply cap of 21 million BTC.
These two factors, more than anything else, have resulted in Bitcoin attracting plenty of outside interest. Numerous US-based banks have now launched bitcoin custody services. Meanwhile, institutional investors have turned to BTC more than any other cryptocurrency.
This all suggests that BTC is more primed to grow in value than most other coins for the foreseeable future. This is why it's one of our 5 best layer-1 blockchain cryptocurrency to buy now.
3. Ethereum (ETH)
ETH has risen by 4% in the past 24 hours, to $4,314. This represents a 1.7% increase in the past week, but also a 9% fall in the last 14 days.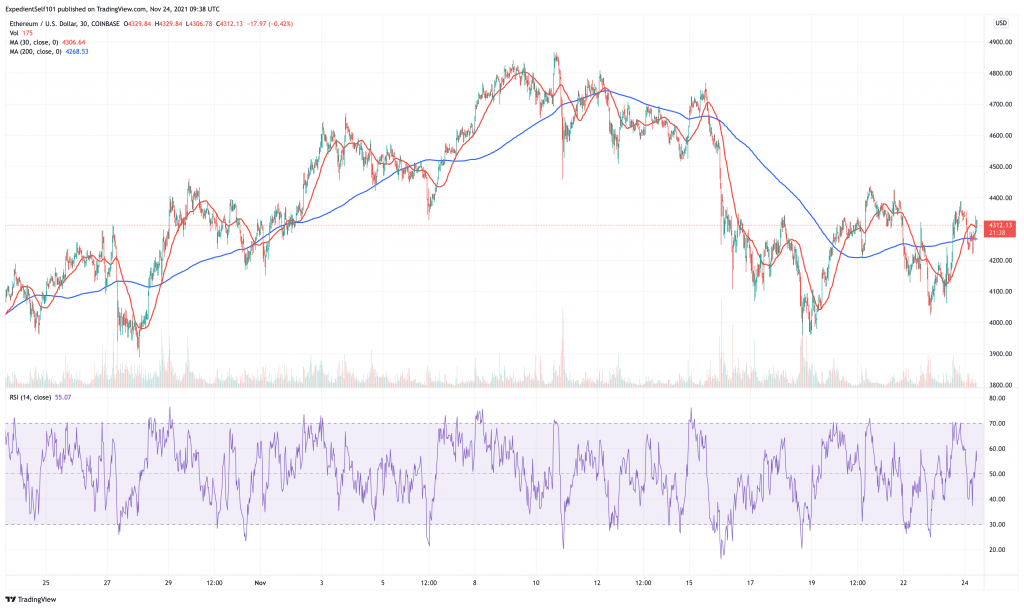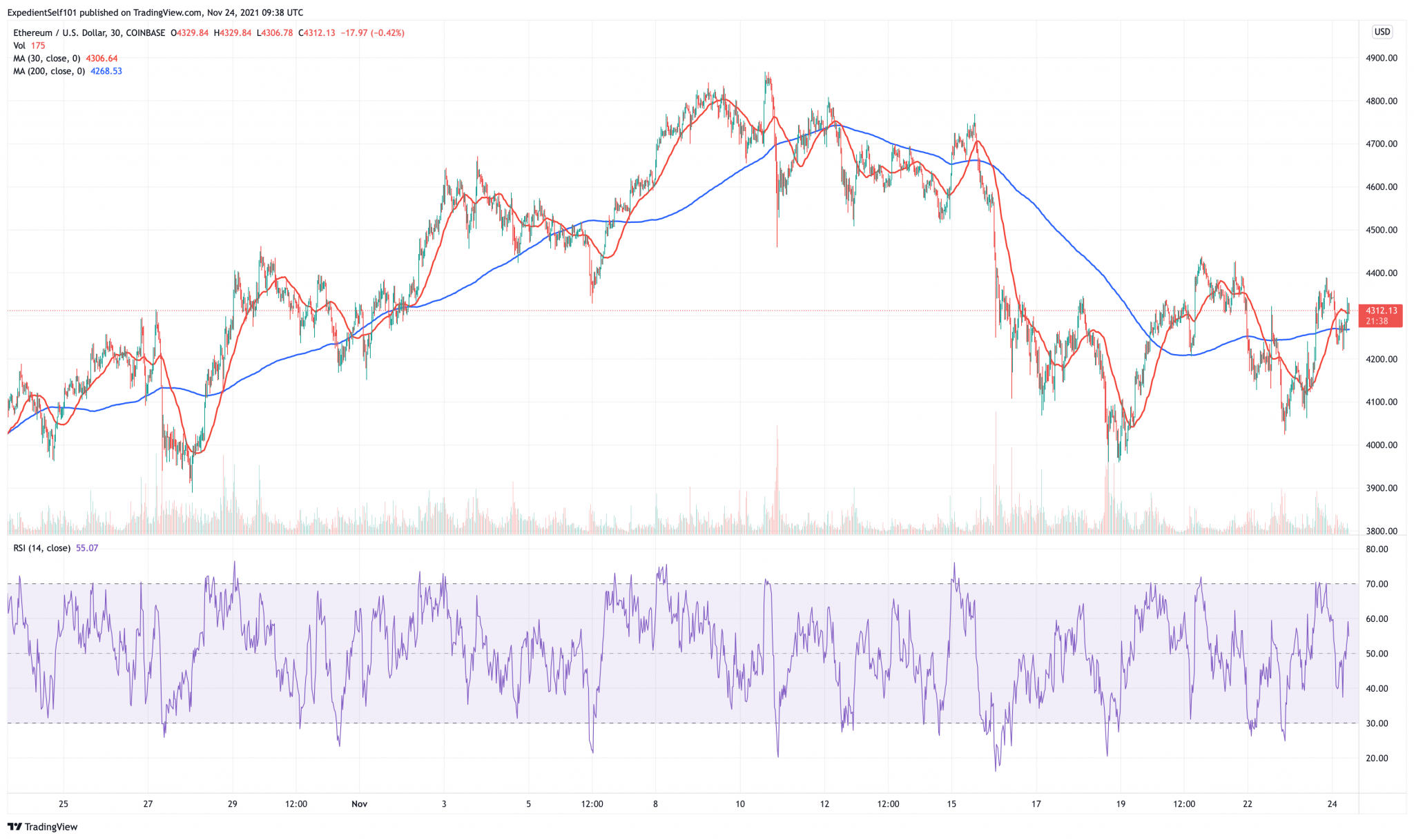 As with BTC, ETH's RSI shows increasing momentum. At the same time, its 30-day moving average (in red) has overtaken its 200-day average (in blue). This could be a signal that ETH is about to breakout from its recent slump.
Either way, it's only a matter of time before ethereum rallies again. That's because the Ethereum blockchain now accounts for around $173 billion in total value locked in. This is more than half of the entire DeFi market, highlighting just how dominant Ethereum remains.
It's also worth pointing out that Ethereum now burns a portion of its fees, following the London hard fork in August. Its issuance has therefore become negative, and with ETH's supply declining over time, increases in demand will squeeze its price upwards.
$ETH is on the path of becoming deflationary

Crunching some numbers since the EIP-1556 was implemented:
– Over 914,680 ETH has been burned
– Meaning that ~9,056 ETH are being burned daily
– Net Issuance dropped to 0.07% in November, as the percentage of fees burned is ~87% pic.twitter.com/Iggi3Sz5ty

— Daniel Ferraro (@danielferraros) November 17, 2021
Also, more ETH holders are also sending the coin to Ethereum 2.0's staking contract. This now holds over eight million ETH, a figure that's only going to increase over time, particularly as the transition to proof-of-stake draws closer (expected some time in early 2022).
$ETH continues to hit new all-time highs.

A supply squeeze seems more probable since:
– The staking contract hit 8.2m ETH
– +8m ETH locked in #DeFi
– Since October 1st, more than 860k ETH left centralized exchanges, decreasing the supply available.https://t.co/s9gSaI5JGF pic.twitter.com/EtPQwUAm9h

— IntoTheBlock (@intotheblock) November 8, 2021
Taken together with Ethereum's continuing popularity as a blockchain, this suggests that ETH is a very good layer-1 cryptocurrency to buy right now.
4. Solana (SOL)
At $216, SOL is one of the few top-ten coins to rise in the past 24 hours, increasing by 2%. It is, however, down by nearly 10% in the past fortnight. It remains up by 6.7% in the last month.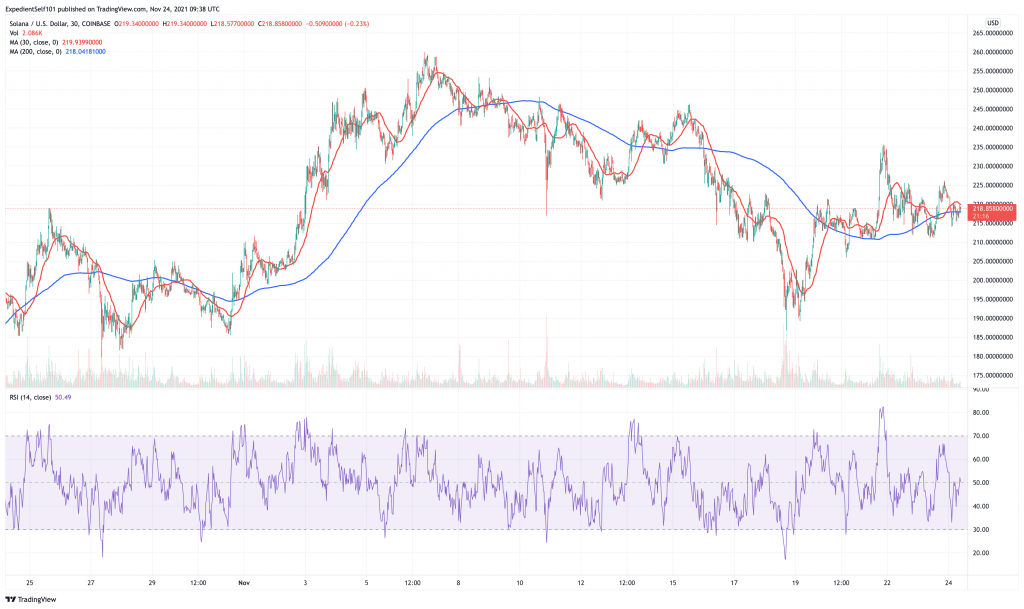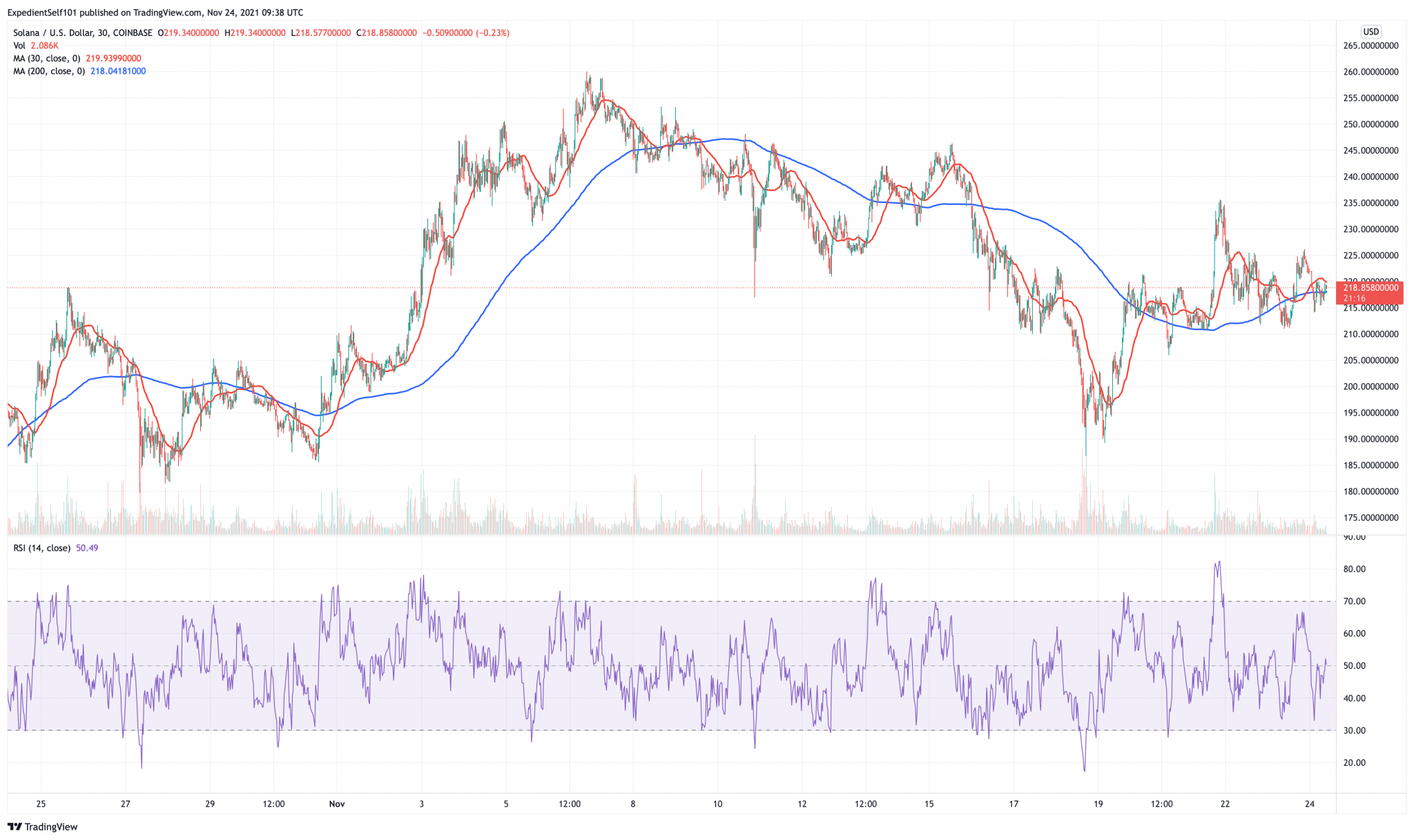 SOL's indicators suggest it's experiencing a modest renewal of momentum. Its RSI has climbed above 50, while its 30-day average recently passed its 200-day.
This may or may not point towards a potential breakout, although given the state of the wider market at the moment, it's hard to say for sure. What's more definite though is the fact that SOL is one of the most promising layer 1 blockchain cryptocurrencies on the market right now.
It's the native token of Solana, which has been experiencing significant growth in the past few weeks and months. It now accounts for $14.8 billion in total value locked in, the third-highest (behind Ethereum and Binance Smart Chain). This figure stood at $1.5 billion as recently as the middle of August, testifying to how quickly dapps and projects are being built on Solana.
Daily active wallets on @Solana crossed 200,000+ recently. Up 3x (~67k per day) since mid-September. Just getting started! 📈https://t.co/cuAiqnDvLf pic.twitter.com/pkLYaU6Iag

— Matty Tayl◎r (@mattytay) November 18, 2021
5. Polkadot (DOT)
DOT is up by 1.4% in the past 24 hours, to $39.75. On the other hand, it's down by 3.5% in the past week and by 22% in the past fortnight.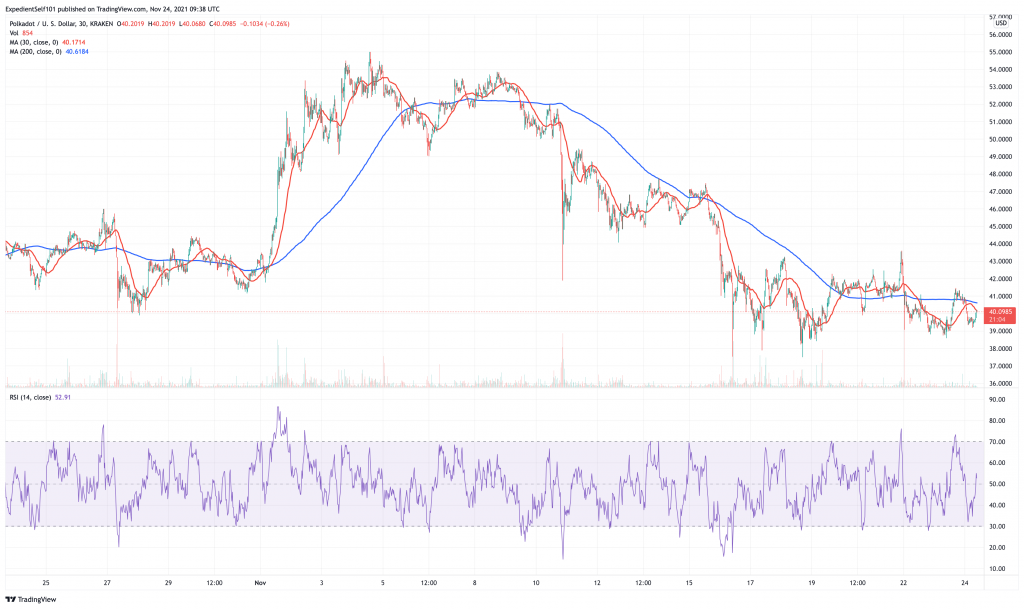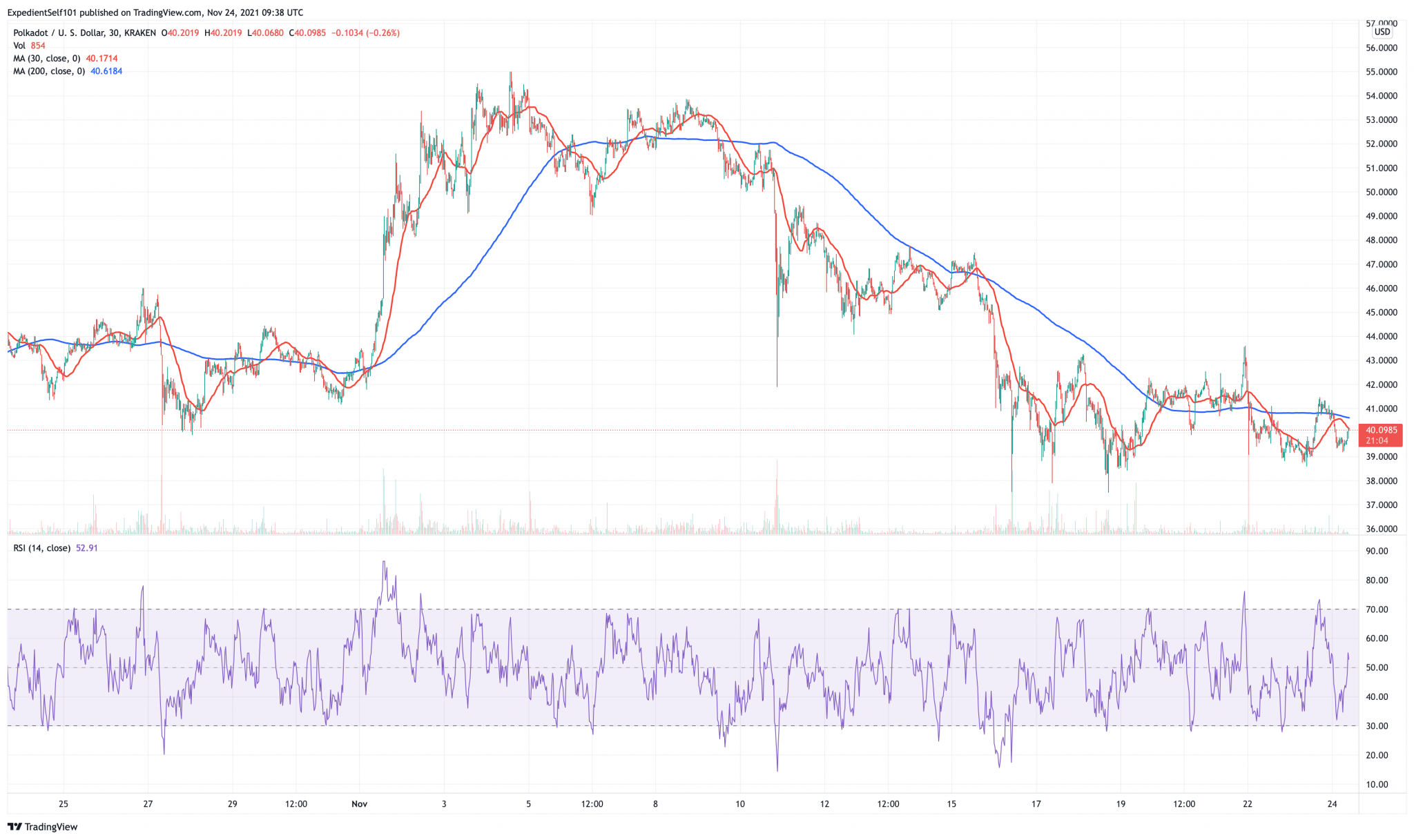 DOT's recent falls are a major reason why it's a good time to buy it right now. Its RSI recently hit a bottom of nearly 30, while its 30-day average looks like it could be on the brink of overtaking its 200-day.
Regardless, DOT is seriously undervalued, not least because nothing fundamental has happened to Polkadot to change its worth. The latter began its first ever parachain auctions a couple of weeks ago. By requiring hopeful projects to bid DOT in order to win a slot on the Polkadot blockchain, these will increase demand for DOT over time. Not least when these will run for several months, and will result in dapps running on Polkadot and using DOT to function.
As such, even with its disappointing performance in recent weeks, DOT is one of our 5 best layer 1 blockchain cryptocurrency to buy right now.
Capital at risk
Read more: